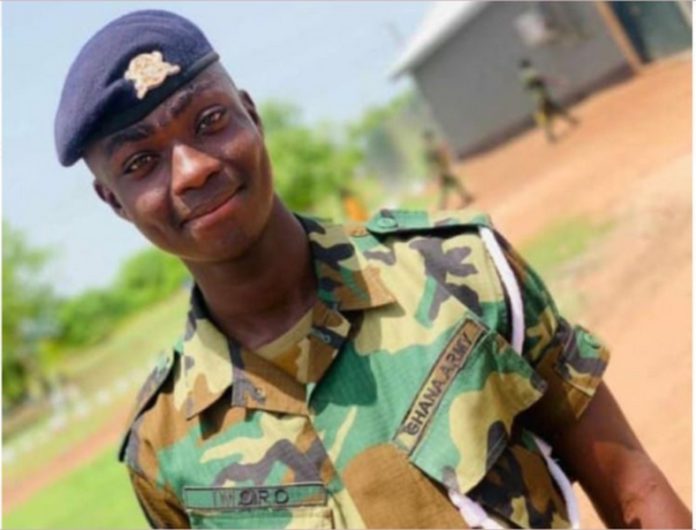 Awudu Imoro, father of a 21-year-old soldier, Sheriff Imoro, who was killed at Ashaiman, has expressed delight at the arrest of six suspects.
According to him, the arrest has brought them some relief and hope that their son's killers will not get away with their gruesome act.
Mr Imoro was speaking on Adom FM's Dwaso Nsem.
"We are happy at the efforts of the police in arresting the suspects and we look forward to what will happen next," he said.
The Police on Sunday announced the arrest of six suspects in connection with Sheriff's death.
The arrest, they noted, was after almost a week of painstaking intelligence-led operations during which the suspects were arrested at various locations at Ashaiman.
Suspects Safianu Musah alias Dayorgu and Ibrahim Abdul Rakib were arrested on March 9 at their hideouts at Ashaiman.
Two other suspects, Samuel Tetteh alias Wiper and Abubakar Sadick alias Birdman, were also arrested at their hideouts on March 10.
Additional suspects, Yussif Mohammed and Abdul Gafaru Abdul Karim, were arrested on 11th and March 12, respectively.
Further investigation, according to the Police, established that suspects Samuel Tetteh and Abubakar Sadick at about 1:45 am on March 4, attacked the deceased at Taifa Ashaiman in an attempt to rob him of his phone and a backpack.
ALSO READ:
Ashaiman murder: Peter Toobu commends Ghana Police 
Commenting on the identities of the suspects, Mr Imoro said the family does not know them at Ashaiman Taifa, neither do they know them to be friends with their son.
Meanwhile, they have been remanded two weeks into Police custody after they appeared before the Ashaiman Circuit Court on Monday.