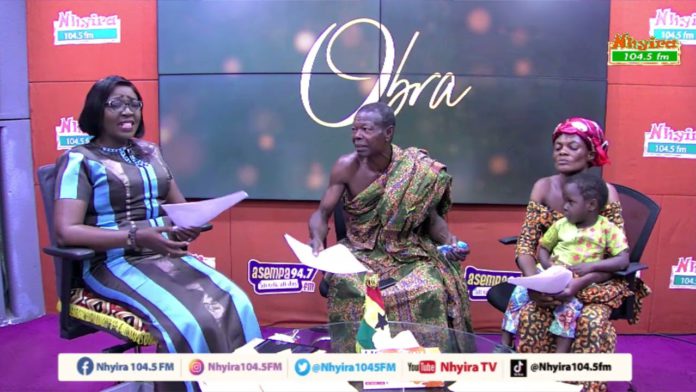 Agya Peter, who was accused by his ex-lover on Nhyira FM's Obra show of making love with her in the backyard of their house, has been exonerated by a DNA report on the paternity of their child.
Afia Amoawaa accused Agya Peter of shirking responsibility as a father.
But the man insisted on the show that, he was not responsible for Amoawaa's last child, emphasising his wife had set out to disgrace him.
Mama Effe and the Obra team opted to have a DNA test to put the matter to rest.
The report has revealed that Agya Peter is indeed not the biological father of the child.
Afia Amoawaa, who was asked to disclose the man responsible for the child, said she had an affair with a man from the Northern region but could not locate him.
The distraught woman said she cheated on Agya Peter to break off the relationship due to maltreatment.
"I did that because Agya Peter was maltreating me, and I wanted to distance myself from him," she claimed.
Agya Peter said he was satisfied, saying that "now the world has seen that I'm a truthful person".
Play the full video above:
ALSO READ: