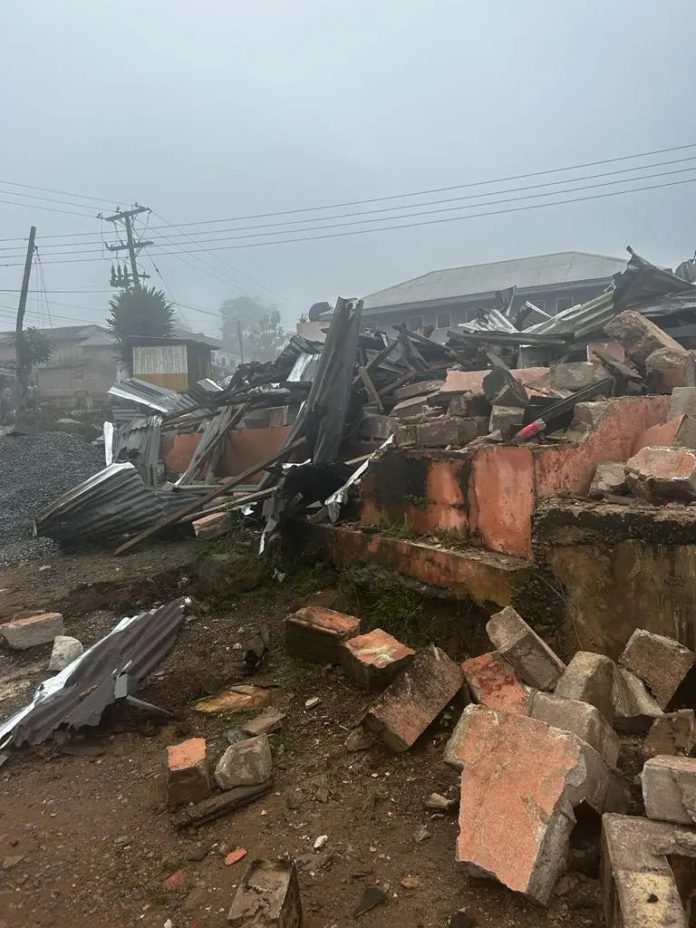 The Akuapem South Municipal Security Council has allegedly arrested an officer of Customs Excise and Preventive Service identified as Daniel Adjei for unlawfully demolishing a 12-seater KVIP public toilet facility at Asuafum, a suburb of Aburi in the Eastern region.
He was arrested along with his accomplice, John Annan.
The suspects, accompanied by armed land guards, stormed the community with bulldozers on Wednesday, September 13, 2023, to demolish the toilet facility, creating tension as residents became furious, prompting intervention by security.
Daniel Adjei reportedly claimed ownership of the land on which the toilet facility was situated, saying that he purchased it two years ago.
The Assembly member for the Aburi West electoral area, Daniel Asiamah, told Starr News, "The customs officer and land guards stormed the community to demolish the toilet facility built by the Assembly.
"The residents attempted to stop them, but the land guards were armed with guns and other dangerous weapons so the residents could not stop them. However, they were happy that security intervened to arrest them."
The suspects have been handed over to the Eastern Regional Police Command to assist with investigation.
Many homes in the community do not have toilet facilities, therefore, the public toilet facility has been serving the community for decades. It is the only toilet facility in the community.
There is fear that open defecation will increase with a potential cholera outbreak if a new toilet facility is not built immediately.
According to the 2021 Population and Housing Census of Ghana, about 18 per cent of households in Ghana do not have access to a toilet facility with the proportion being over three times as much among rural 31.3% as urban (8.9%) households.
Rural households (5.1%) dominate the use of unimproved toilet facilities relative to urban areas (1.1%), and show wide disparities across the regions ranging from Upper West (21.9%) to Greater Accra Region (3.4%).
The census report again indicates that open defecation is prevalent in all 16 administrative regions in Ghana, with five regions recording more than 50 percent.
This means, about 5.5 million people in Ghana still practice open defecation.
Although almost all assemblies have by-laws that make it compulsory for landlords to provide toilet facilities for their tenants which failure to do so attracts sanctions, the law is not being enforced making public toilet facilities a critical intervention for many households without to attend nature's call.