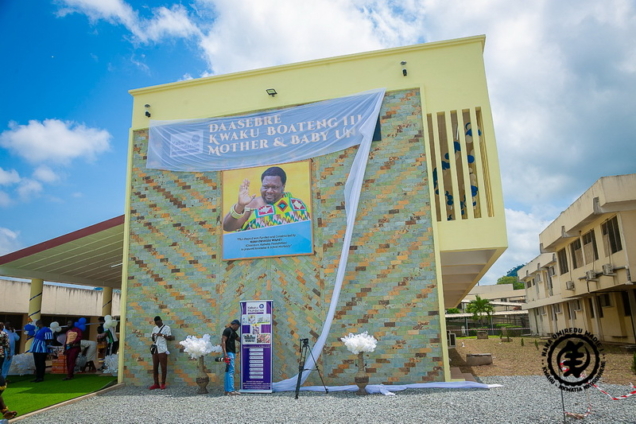 A multipurpose Neonatal Intensive Care Unit (NICU) complex to help save newborns and reduce maternal deaths at the Eastern Regional Hospital has been commissioned in Koforidua.
The NICU Unit, solely funded by the Kwahu-Nkwatia Nkosuohene (Development Chief of Kwahu-Nkwatia), Nana Owiredu Wadie 1, and named after the paramount Chief of the New Juaben traditional area, Daasebre Kwaku Boateng III, has four main facilities.
The 80-bed capacity clinic valued at GHȼ7m has the Yaa Boatemma Neonatal Intensive Care Unit which consists of high dependency, low dependency, stable, and isolation ward, Kangaroo Mother Care Excellence Centre with 10-bed capacity in-patient adaptation and others.
It also has an Ambulance Bay, a Conference Centre and a 40-bed capacity mother hostel named after his father, Opanyin Kwame Wadie.
Commissioning the project to mark his 42nd birthday, Nana Owiredu Wadie said "When it came to my attention last year 2022 that 31 infants per every 1,000 life births die in Ghana due to the inadequate modern facilities for children, I became very worried and it was a major concern to me so I decided to collaborate with the Ghana Health Service in the Eastern Region to tackle this dilemma in a more holistic approach and by the grace of God we are here to mark the handing over of the NICU Unit I promised to build for this hospital."
In his speech, Dr. Ebo Hammond, the Director of Health Administration and Support Services at the Ghana Health Service (GHS) who represented the Director General of the GHS, commended Nana Owiredu Wadie I for his effort to put up an edifice for vulnerable children in the region and beyond.
Dr. Hammond highlighted the importance of the NICU Unit in every hospital to saving the lives of newborns.
"Eastern region records 7.8 neonatal deaths out of every 1,000 live births making it high above the national rate therefore the new facility will save more lives in the region".
The Medical Director of Eastern Regional Hospital Dr. Arko Akoto Ampaw stated that the demand for NICU services keeps increasing over the years at the hospital.
According to him, in Ghana, the average institutional neonatal mortality per every 1,000 live births was 6.5 in the year 2022 which translates to an 8.5 percent reduction over that of 2021.
For his part, the Eastern Regional Minister, Seth Kwame Acheampong regretted that the Region has lost many children due to inadequate NICU care. He therefore commended Nana Owiredu Wadie for coming to the aid of the region.
The Eastern Regional Director of Health, Dr. Winfred Ofosu said having a modern NICU Unit for the first time in a regional hospital will improve access to newborn care.
The philanthropist, through his Kabaka Foundation, a non-profit making organisation, used the occasion to pay the medical bills of all new mothers at the maternity and neonatal intensive care unit and presented drinks and other groceries to the facility.