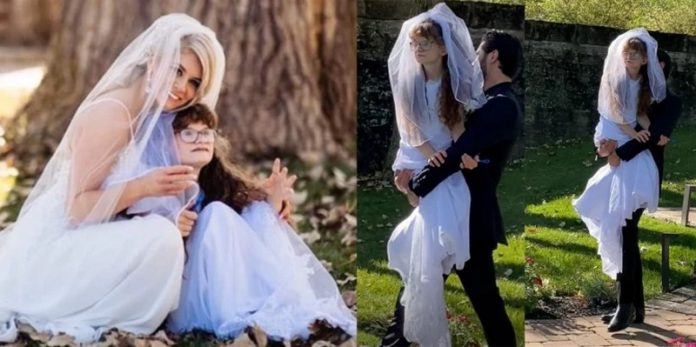 When it appeared as if one bride's sister would never have her own wedding, she decided to share her big day with her in the most uplifting way.
When it was time for the groom to walk down the aisle, he had a special guest with him in tow.
The groom carried his bride's twin sister down the aisle so she could experience being treated like a bride herself.
When Morgan Watkins got engaged to her now-husband, Brian, after six years of dating, she knew she wanted her twin sister, Macey, to have a significant part in her big day.
Macey Watkins was born with special needs and will unfortunately most likely never get married herself. Still, her sister wanted her to experience the joys of being a bride along with her when she and Brian tied the knot.
When the day finally came and the groom walked down the aisle, guests were in awe to see him carrying Macey, decked out in her own white dress and veil, in his arms.
Morgan posted a video of the sweet moment to her TikTok account, which has since been viewed over 74 million times since the October 2021 wedding.
"My twin sister who has special needs came down at my wedding with my fiancé, now who I call my husband," she captioned the video.
"I wanted her to have her special moment as a bride like her twin sister. I will forever cherish this! Look at how her just looking around at everyone like she's on her throne!"
Morgan added that her husband's love for her sister is one of the reasons she fell in love with him so deeply. "He loves her as much as I do."
Other TikTok users were moved by the heartwarming ceremony.
"This is amazing because you will most likely take care of her during her old age and he's making a promise to you and her," one user commented.
"As a mother who has daughters who will never get married this is so beautiful and selfless," another user shared.
"All the bridezillas out there talking about their special day. I see two queens here. And a prince," another user pointed out.
"Best thing I've EVER seen on TikTok he's a million percent a keeper," another added.
Morgan noted in the comments section that her sister has "no interest in dating" but wanted her to have the special moment that she had.
"She's my girl. Where I go she goes & I always told myself I'll never be with a man who doesn't love her and accept her just like I do," she added. In another video, Morgan shares that Macey has always been her "pride and joy."
"The twin bond is inseparable, if you're a twin I'm sure you can relate," she says. "She is my best friend, my twin & the reason I am who I am today. I am her voice, she is my heart!"