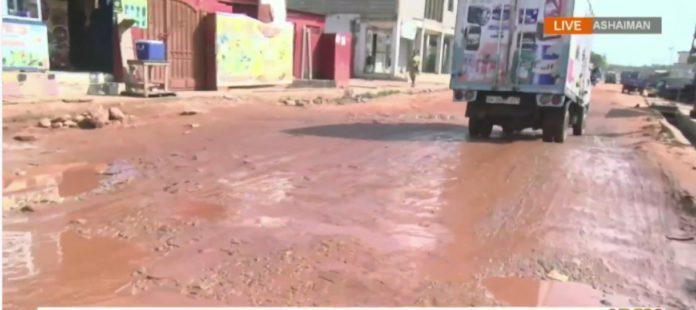 Scores of residents of Ashaiman have this morning defied early morning showers to show their displeasure over the deplorable roads in the municipality.
The residents say they are fed up with government's empty promises of fixing the road.
The irate residents were, however, denied access to parts of Ashaiman which have these bad roads.
In response to this, the protesters have blocked the Ashaiman traffic intersection which connects Ashaiman to parts of Tema, Adjei Kojo, Oyibi-Somanya road and Ashaiman roundabout connecting Ashaiman to the Tema-Akosombo highway.
Some residents have been calling on the Municipal Chief Executive for the area, Albert Boakye Okyere, to as a matter of urgency begin works on the road.
Millicent Apraku, a resident of Ashaiman said the neglect of the area by the ruling government is untenable.
"The MCE says here [Ashaiman] is the stronghold of the NDC. But I can tell you on the fact that during the 2020 election, the NPP had 36,000 votes in Ashaiman here. So how can you tell us that here is the stronghold of the NDC so you can't fix our roads. Ashaiman deserves better…" she said.
Another protester says the MP for the area, Ernest Henry Norgbey, must do more to advocate for the repair of the roads in the area.
"We know the MP doesn't fix roads, right? So he being our mouthpiece, he must go to the assembly and make that thing happen but we always hear, 'My government is not in power so I can't do nothing'. But that's not it…" he said.