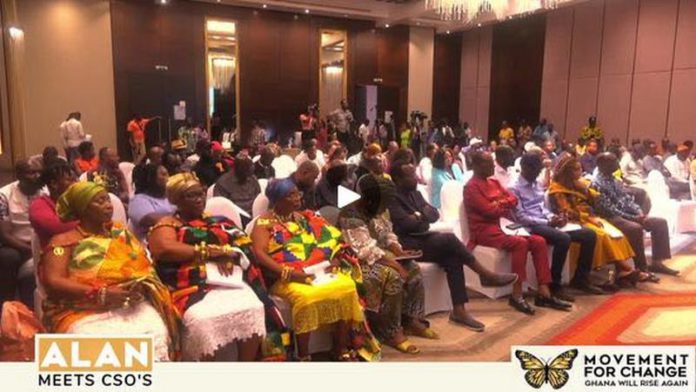 During a stakeholder meeting between Civil Society Organizations (CSOs) and the former Trade and Industry Minister, Alan Kyerematen, Founder and CEO of Immani Ghana, Franklin Kudjo, affirmed the credibility of Kyerematen.
The gathering, held on Tuesday, November 14, 2023, at the Movenpick Hotel in Accra, focused on discussions about Kyerematen's Great Transformational Plan (GTP), a blueprint designed to propel Ghana toward sustained economic growth.
Under the theme "A Transformation Agenda for All Ghanaians," Kyerematen, also the founder of the Movement for Change (MFC), engaged with CSOs, recognized as key players in shaping strategic policies for the country's development.
Franklin Kudjo of Imani Ghana commended Hon. Alan Kyerematen, expressing confidence in his ability to implement the proposed transformative changes.
Kyerematen, renowned for his extensive experience in public service, especially as Ghana's longest-serving Minister of Trade, has played a crucial role in successful development initiatives, leveraging his expertise in industrialization, trade, and public policy.
The CSOs present at the meeting comprised influential advocacy and research groups in Ghana, including IMANI, the Center for Democratic Development (CDD), the Institute for Democratic Governance (IDEC), and the National Interest Movement (NIM), among others.
These organizations have consistently shaped Ghana's policies and provided valuable insights into various aspects of the nation's development.
Kyerematen's Great Transformational Plan has gained substantial attention and acceptance, and the meeting with CSOs is considered a crucial step in ensuring its success.
The theme, emphasizing inclusivity in the nation's development journey, underscores a commitment to making the transformational plan beneficial to all Ghanaians, irrespective of their backgrounds.
The meeting serves as a platform for open and constructive dialogue between CSOs and Kyerematen, facilitating the exchange of ideas, concerns, and recommendations.
This collaborative effort aims to refine and enhance the Great Transformational Plan, ensuring it is robust, comprehensive, and responsive to the needs of the Ghanaian people.
The event highlights the potential for positive transformation in Ghana through collaboration, inclusivity, and civic engagement.
The discussions and outcomes of this meeting are expected to resonate across the nation, contributing to the realization of a more prosperous and equitable Ghana for all.