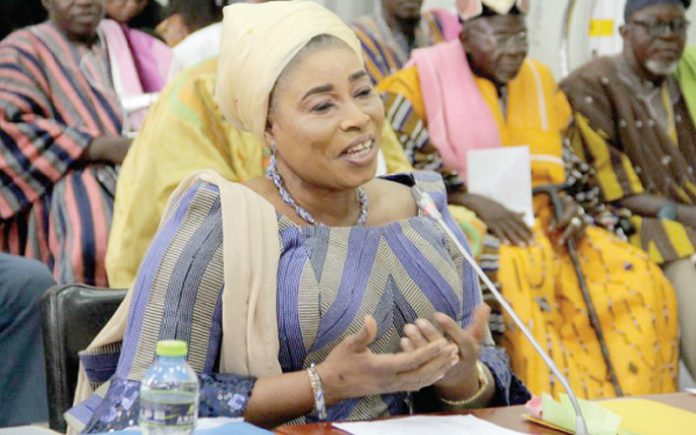 The Volta Regional branch of the National Democratic Congress (NDC) has condemned the failure of the Gender Minister to safeguard the welfare of vulnerable people in the Lower Volta Basin following the Akosombo and Kpong Dams spillage.
According to the NDC, vulnerable groups displaced by the floods i.e. the aged, women, children, people living with disabilities, etc. have been facing some discrimination in the distribution of relief items to displaced people.
They added that, most of these people are also still living in very inhumane and unsanitary conditions at risk of disease and abuse.
"This is an unacceptable and dire situation that requires immediate attention and redress," the NDC said.
The NDC says despite heightened media coverage on the dire situation in the Lower Volta Basin, the Gender Minister, Lariba Zuweira Abudu, and the Gender Ministry have been missing in action.
They argue that ensuring the wellbeing of the vulnerable population should be a matter of utmost concern for the Gender Ministry, and have thus urged her and her office to show up for the people of the Lower Volta Basin.
"The Media is inundated with SOS calls and cries from these vulnerable individuals while Hajia Lariba Zuweira Abudu appears to be either sleeping or deliberately sitting unconcerned.
"Even the reported case of collapse of an elderly woman in the Agbetikpo camp in North Tongu nor the weeping of a frail 85-year-old Janet Gidi on live TV that they are being discriminated against could not move her to realize that it is her sworn responsibility to cater for these vulnerable people.
"The NDC firmly believes that it is the responsibility of the Minister for Gender, Children and Social Protection to ensure that these vulnerable populations are protected and provided with the necessary support during times of crisis.
"It is her obligation to take keen interest in and ensure equitable access to relief resources, and this blatant discrimination goes against the very principles she is entrusted to uphold. It is a clear case of dereliction of duty, and it is high time she stood up and be counted," the NDC said in a press statement.https://www.youtube.com/embed/w_AvkjepThs
They further admonished philanthropists and entities donating to the displaced people to deliberately target persons with disability, children, aged and other vulnerable groups.
"We equally call on everyone to liaise with the appropriate authorities as we all try to demonstrate our innate Ghanaian spirit of compassion, generosity and hospitality towards one another.
"The Volta NDC remains committed to advocating for the rights, privileges and protection of all citizens, particularly those within the vulnerable bracket of our society.
"We implore the Government through the Gender, Children and Social Protection Ministry to take urgent and decisive steps to rectify these injustices and ensure no one is left behind in these excruciating times of humanitarian crisis," the NDC stated.