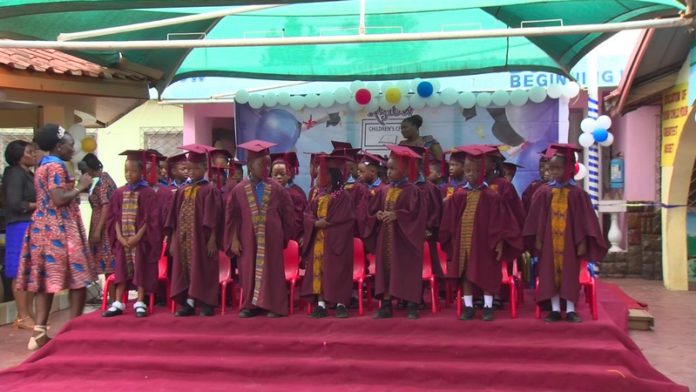 In a heartwarming and spirited ceremony, the Aglow Children's Centre recently celebrated the graduation of their final-year students on the picturesque premises of the school, situated along the Madina New Road at the Ocansey Junction, near Presec Staff Basic School.
The theme for this year's event, "Pre-School Education: Helping Ghana Fulfill Her Academic Dreams," encapsulated the passion and dedication of educators to pave the way for a brighter future.
The event was a showcase of talent and the result of the nurturing environment the school provides.
The young learners took center stage, performing a plethora of captivating dramas that not only wowed the audience but also highlighted the incredible progress they have made during their time at the Aglow Children's Centre.
The ceremony drew an enthusiastic crowd of parents, teachers, and members of the general public, all of whom were thoroughly impressed by the outstanding performances of the pupils.
The cheers and applause that echoed through the gathering served as a testament to the hard work and dedication put forth by the students and educators alike.
A pivotal moment of the graduation ceremony was the distribution of certificates to the students who are set to embark on their next educational journey.
The pride and joy on the faces of these young graduates were evident as they received their well-deserved certificates, marking their transition into the next phase of their educational adventure.
Headteacher Esther Apedo, in an interview explained the rationale behind this year's theme.
She emphasized the pivotal role of early childhood education in shaping the academic dreams of Ghana's future leaders.
Madam Apedo also called upon parents to continue investing in their children's education, underscoring the lasting impact it has on their lives.
The Chairman of the Parent-Teacher Association (PTA), Dr. Ebenezer Kwame Adei, used the occasion to call on the government for support.
He urged authorities to consider granting tax waivers to private schools, noting that such measures would contribute to providing quality education to the Ghanaian child.
Mr. Adei's call resonates with the broader mission of ensuring accessible and top-tier education for all.