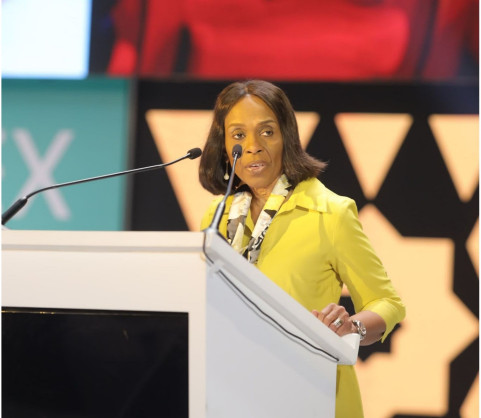 The African Export-Import Bank (Afreximbank) (www.Afreximbank.com) is working on the establishment of a $1-billion African Film Fund to be launched in 2024 to support the continent's film industry, Kanayo Awani, Executive Vice President, Intra-African Trade Bank, at Afreximbank, announced in Cairo today.
Addressing the opening of the 2023 CANEX Summit held as part of the third Intra-African Trade Fair (IATF2023), Mrs. Awani said that the fund would oversee film financing, co-finance with large studios, finance African filmmakers and finance producers and directors of film projects across the continent.
She noted that during CANEX WKND 2022, the Bank had increased the financing it was making available to the creative sector from US$500 million to US$1 billion and that the Bank currently had a pipeline of over US$600 million in film, music, visual arts, fashion, and sports deal.
"The very first film we financed recently premiered at the Toronto Film Festival," Mrs. Awani said, adding, "The Bank has several in the pipeline from Nigeria, South Africa, and Kenya, which should be on streaming platforms in 2024."
Acknowledging that the film and audiovisual industries in Africa accounted for US$5 billion of the continent's GDP and employed an estimated five million people, with the potential to create over 20 million jobs and generate US$20 billion in revenues annually, Mrs. Awani noted that the sector faced several challenges, including limited access to financing and copyright infringement due to weak copyright laws, enforcement mechanisms and a lack of awareness.
The sector was also confronted with infrastructure and technology gaps, lack of capacity and shortage of skilled professionals and limited market access and international exposure, as a result of which African creative and cultural products often struggle to gain exposure and access to international markets.
Earlier, Boris Kodjoe, a celebrity actor of Ghanaian descent, highlighted how the creativity of Africans had influenced various aspects of modern life, including music, fashion, art, design, social consciousness, business, sports, film and TV. He said that the exploitation of black creativity by the West had had lasting effects and that, despite admiration of black excellence, Africa still faced branding challenges due to external perception fuelled by the traditional media's depiction of poverty, famine, civil wars and migration on the continent.
Mr. Kodjoe said that the world craved culturally specific global content and that Africa was a key player in meeting that demand. With the continent's young population and high connectivity, studios, networks, promoters and brands were investing in solutions to reach diverse audiences. Films and TV shows with diversity performed better than others by 30 per cent and Afrobeats was taking over global airwaves. By 2030, Africa was projected to produce up to 10 per cent of global creative goods export worth roughly $200 billion or four per cent of Africa's GDP.
Also speaking, H.E. Albert M. Muchanga, Commissioner for Trade and Industry of the African Union Commission, said that the creative sector in Africa was rapidly growing and making a significant contribution to the inclusive growth and sustainable development of African economies.
"I reaffirm my belief that the African creative industry has huge potential to be a source of employment and revenue to create the Africa we want – revenue from intra-African trade as well as revenue from the rest of the world."
Ambassador Muchanga urged African nations to convert their vast potential into plans and projects that yield tangible results, stressing the need to also invest in protecting international property rights.
CANEX is an Afreximbank initiative to support Africa and the African Diaspora's creative and cultural industries by providing financing and non-financing instruments to boost growth. The seven-day CANEX Summit is intended to further develop conversations and provide additional business-to-business and business-to-government opportunities. It includes a fashion show featuring a range of bold and exciting designs from across Africa and the Diaspora and a CANEX Music Factory, hosted by renowned South African producer Oskido, which will provide songwriters and beat makers with the opportunity to record their work.
Creative Africa Nexus (CANEX) programme set up by Afreximbank seeks to facilitate the development and growth of the creative and cultural industries in Africa and the diaspora. The programme provides a range of financing and non-financing instruments and interventions aimed at supporting trade and investment in Africa's creative sector.
IATF2023, Africa's largest trade and investment fair opened on 9th November and will run till 15th November 2023.
Distributed by APO Group on behalf of Afreximbank.
Media contact:
Deborah Ross
Senior PR Account Director 
BrandComms
+44 (0) 759 3602 128
​deborah.ross@brandcommsgroup.com
Follow us on:
X (Twitter): https://apo-opa.info/41qI9VY
Facebook: https://apo-opa.info/3MGRNQi
LinkedIn: https://apo-opa.info/3KBxMYQ
Instagram: https://apo-opa.info/3UA1jH1
About the Intra-African Trade Fair:
Organised by the African Export-Import Bank (Afreximbank), in collaboration with the African Union Commission (AUC) and the African Continental Free Trade Area (AfCFTA) Secretariat, the Intra-African Trade Fair (IATF) is intended to provide a unique platform for facilitating trade and investment information exchange in support of increased intra-African trade and investment, especially in the context of implementing the African Continental Free Trade Agreement (AfCFTA). IATF brings together continental and global players to showcase and exhibit their goods and services and to explore business and investment opportunities in the continent. It also provides a platform to share trade, investment and market information with stakeholders and allows participants to discuss and identify solutions to the challenges confronting intra-African trade and investment. In addition to African participants, the Trade Fair is also open to businesses and investors from non-African countries interested in doing business in Africa and in supporting the continent's transformation through industrialisation and export development.
For more information, please visit www.IntrAfricanTradeFair.com
About Afreximbank:
African Export-Import Bank (Afreximbank) is a Pan-African multilateral financial institution mandated to finance and promote intra-and extra-African trade. For 30 years, the Bank has been deploying innovative structures to deliver financing solutions that support the transformation of the structure of Africa's trade, accelerating industrialization and intra-regional trade, thereby boosting economic expansion in Africa. A stalwart supporter of the African Continental Free Trade Agreement (AfCFTA), Afreximbank has launched a Pan-African Payment and Settlement System (PAPSS) that was adopted by the African Union (AU) as the payment and settlement platform to underpin the implementation of the AfCFTA. Working with the AfCFTA Secretariat and the AU, the Bank is setting up a US$10 billion Adjustment Fund to support countries to effectively participate in the AfCFTA. At the end of 2022, Afreximbank's total assets and guarantees stood at over US$31 billion, and its shareholder funds amounted to US$5.2 billion. The Bank disbursed more than US$86 billion between 2016 and 2022. Afreximbank has investment grade ratings assigned by GCR (international scale) (A), Moody's (Baa1), Japan Credit Rating Agency (JCR) (A-) and Fitch (BBB). Afreximbank has evolved into a group entity comprising the Bank, its impact fund subsidiary called the Fund for Export Development Africa (FEDA), and its insurance management subsidiary, AfrexInsure, (together, "the Group").
For more information, please visit: www.Afreximbank.com