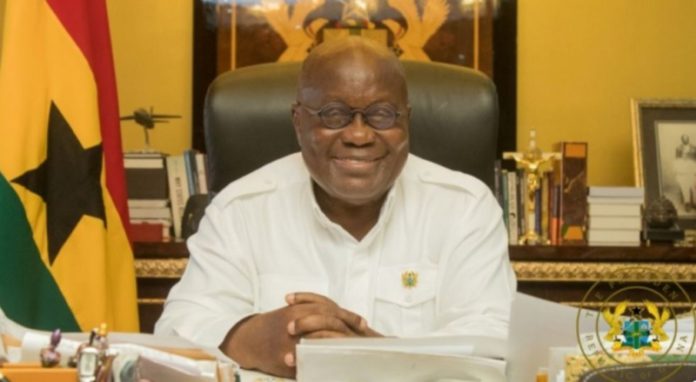 President Nana Akufo-Addo has reiterated the commitment of his government to completing the "Agenda 111" Hospital Project, whose sod he cut in August 2021.
According to President Akufo-Addo, thus far, 86 district hospitals, two regional psychiatric hospitals and the western regional hospital are ongoing, which are all at various levels of completion.
Speaking at the commissioning of the St. Michael's Specialist Hospital, on Saturday at Abeka Lapaz, the President stated that "the average completion rate of the 89 ongoing projects is 52%, with work at some of the sites being seventy to eighty per cent complete."
He told the gathering that the construction of these 89 hospitals is being undertaken by indigenous Ghanaian contractors, who have provided direct and indirect jobs to Ghanaians.
"There is an average number of 120 workers on each construction site, and, when completed, an average of 549 persons will be employed in a district hospital, 1,343 in a regional hospital, and 947 in each psychiatric hospital," the President said.
He continued, "This means that 67,635 people will be employed in the Agenda 111 hospitals."
The Agenda 111 initiative is providing 101 standard 100-bed district hospitals with accommodation for doctors and nurses in districts without district hospitals; six new regional hospitals for each of the six new regions; rehabilitating the Effia-Nkwanta Hospital in the Western Region; building one new regional hospital for the Western Region; and two psychiatric hospitals for two of the three zones of the country, i.e. Middle and North. The entire package is estimated at a cost of $1.765 billion.
"Beyond the building of these new healthcare facilities, my vision is to help make Ghana the Centre of Excellence for Medical Care in West Africa by 2030, leveraging on Ghana's favourable status in the Region as the most peaceful country in West Africa, a beacon of democracy on the continent, and a land of opportunities," he said.
President Akufo-Addo reaffirmed his government's commitment to improving access to essential and quality health services through the provision of the necessary health infrastructure, equipment and logistics, including the deployment of appropriate technology as part of the country's drive to attain Universal Health Coverage (UHC).
Since 2017, the President noted that his government has restored nursing trainee allowances, and recruited the highest number of healthcare workers in the history of the 4th Republic, with 58,041 health workers employed to supplement the existing health sector workforce at the height of COVID-19 alone.
"The Ghana Ambulance Service has been equipped with 307 ambulances, that is 1-Constituency-1-Ambulance, in comparison to the 55 'semi-functioning' ambulances that existed during the time of the Mahama government. We have made improvements in the National Health Insurance Scheme (NHIS) to make access easier, and we are using drones to deliver emergency medical supplies to remote areas," he added.