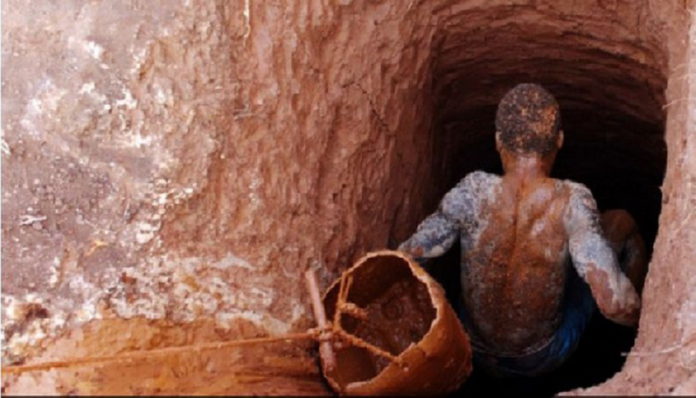 The Ghana National Association of Small Scale Miners taskforce has arrested 29 illegal miners operating in the Kwaebibirim Municipality of the Eastern Region.
The illegal miners were arrested during a swoop at two separate sites at Akyem Pramkese and Akyem Abodom following the destruction of several acres of cocoa farms and palm oil plantation.
As part of the commitment made by the Ghana National Association of Small Scale Miners to ensure that the Birim river in the Eastern region is restored to its natural state the task force has embarked on a special operation in the Kwaebibirim municipality of the Eastern region where 29 of the illegal miners were arrested at Akyem Pramkese and Akyem Abodom.
The activities of the illegal miners have led to the destruction of several cocoa farms and palm oil plantations in the area. The culprits were kept at the Pramkese police station before subsequently transported to the Kibi Divisional Police Command where they are expected to be processed for court.
Speaking to Adom News, the leader of the taskforce, Patrick Don-Chebe, expressed frustrations with the interference of some politicians and opinion leaders.
According to him, some 'members of the top' try to use their influence to release arrested culprits which ends up stalling their work.
However, Mr Don-Chebe said the interference is a thing of the past since they have been given full control of activities including arrest.
Some of the farmers in the area, who spoke to Adom News, commended the taskforce but raised concerns about how their farms have been forcefully taken away from them by the illegal miners.