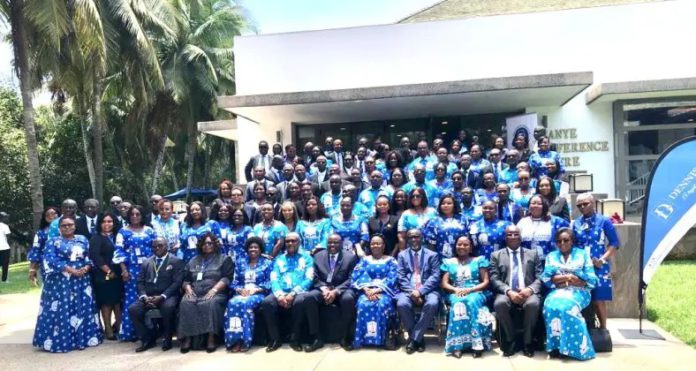 A historic 20 judges and magistrates from the various hierarchies of the judiciary, including four Supreme Court justices, have retired from the service.
The number is said to be the highest-ever number of judges and magistrates to retire in a single legal year (2022/23) in the history of the Association of Magistrates and Judges of Ghana (AMJG).
This year's number of retirees is eight more than the 12 that retired in the 2021/2022 legal year.
This was announced by the President of the AMJG, Justice Henry Attorney Kwofie, also a Justice of the Court of Appeal during their 42nd annual general conference in Accra.
Among the retirees are four justices of the Apex Court, namely Justice Anin Yeboah, former Chief Justice, Justice Jones Victor Dotse, Justice Nene Amegatcher, and Justice Prof. Nii Ashie Kotey.
The others include five Court of Appeal justices, one each from the High Court and the Circuit Court, and nine District Court Magistrates.
They were all recognized with a citation at the 42nd Annual Conference of the Association of Magistrates and Judges of Ghana on September 27.
Announcing their retirement from the bench this year, President of the AMJG, Justice Henry Anthony Kwofie said, "This year 20 of our members in the various hierarchy of the courts have retired or are about to retire after several years of dedicated service to the Judicial Service and the Country."
"This is the highest number of judges and magistrates ever to retire in one legal year in the history of the AMJG," the President of AMJG stated.
The 2023/2024 Legal year officially begins today, Monday, October 2, 2023, and will end on July 31, 2024.
Meanwhile, since the AMJG's last Annual General Meeting in September 2022, the Association has also lost four of its members.
They were His Lordship Justice Frank Manu, popularly called Teacher Manu, a retired High Court Judge, Her Ladyship Justice Naana Buadi-Addo Abubakar, a Justice of the High Court; Her Honour Marvin Emmanuel Essandoh, a Circuit Court Judge; and His Worship Divine Ahiadu.
Check out the full list below:
His Lordship Kwasi Anin-Yeboah, former Chief Justice
His Lordship Justice Jones Victor Dose of the Supreme Court
Justice Nene Amegatcher of the Supreme Court
His Lordship Prof. Justice Ni Ashie Kotey of the Supreme Court
His Lordship Justice Victor Ofoe of the Court of Appeal
Her Ladyship Justice Margaret Welbourne of the Court of Appeal, who has retired voluntarily,
Her Ladyship Justice Angelina Morna Dormaakyareh of the Court of Appeal
Her Ladyship Justice Amma Gaisie of the Court of Appeal
Her Ladyship Justice Cecilia Hanzzy Sowah of the Court of Appeal, who will
retire in December 2023
Her Ladyship Justice Patience Mills-Tetteh of the High Court
His Honour Micheal Kudjo Ampadu Circuit Court
His Worship Prince Andrew Cudjoe District Court
His Worship, Joseph Twumasi District Court

4. Her Worship Joyce Bamfo District Court

His Worship, Dapileh Peter Banoe District Court
His Worship, Augustine Essah District Court
His Worship, David Dokurigu Sebiyam District Court
Her Worship Bernadine S. Abravi Senoo District Court
His Worship, Awal Narh District Court
Her Worship, Memunatu Yakubu District Court
ALSO READ: