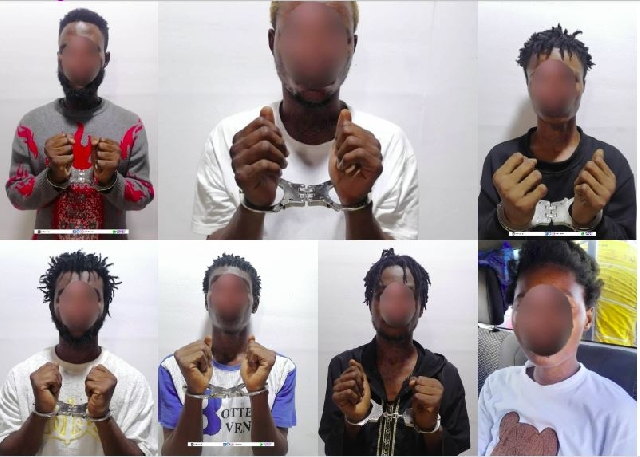 The Police have arrested 12 suspects and are pursuing over 25 others for their involvement in cyber-related crimes.
The suspects were arrested through a sustained cyber-intelligence operation.
The suspects have been identified as Gideon Kove alias Billions, Felicia Nanewortor, Carl Kristal, Safari Zatey, Eric Acquah alias Cent Mona, Richard Agbadzi, Isaac Dortsue alias Barajah and Samuel Gadre.
Others include; Moses Otchie alias Razak, Yonnah Boso, Sterling Kwame Doe and Wisdom Tornyie.
They are currently assisting the Police investigation and will be put before the court to face justice.
Investigations have established that the modus of the criminal syndicate is to impersonate or hack into the social media accounts of prominent persons including Ministers of State and Members of Parliament (MPs).
They also use Heads of government institutions and corporate entities to defraud unsuspecting victims of various sums of money by promising them jobs, scholarships, publication of fake promotional advertisements and sale of products among others.
As part of the operation, 973 fake social media accounts created by the suspects in the names of these prominent persons and corporate entities have been pulled down.
About 785 of the fake accounts were in the names of MPs, 62 in the names of security officials, 136 for Ministers of State, Ambassadors and some heads of institutions.
ALSO READ:
NLA arrests 18 lotto fraudsters
Five suspected cyber fraudsters on the run after being granted bail
The Police have also recovered 32 mobile phones, three laptops and 54 SIM cards used by the suspects to commit their crimes.
The Police said the operation to clamp down on cyber-related crimes has been institutionalised and would like to urge anyone who has fallen victim to any of the crimes mentioned above to contact 0249850601 for further action.
This is a dedicated number solely for this exercise.